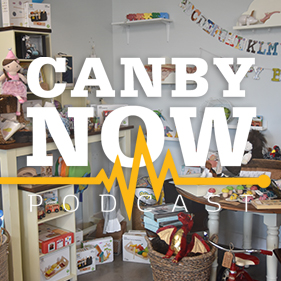 News and More: Canby's new drive-in, Fairground Features, opens Aug. 21 (hopefully). The fire chief is among those dismayed by maskless crowds at the Molalla River. Statewide, the Covid-19 situation appears to have stabilized. GOP lawmakers call for Portland leaders and Governor Brown to do something about the riots.
Canby Conversation: Managing Canby Gifts, one of the town's newest stores, is not for the faint of heart. It opened last year in the midst of the holiday season, surviving that whirlwind just in time to be hit by the Covid-19 pandemic. Maya Kinley-Hanlon tells us about it, as well as the new name and rebrand that is coming down the pike.
After the Break: A thief was stopped for taking tires from the shop without paying for them. He had a good reason, though: He forgot. You know what this is: Everyone's favorite segment, Police Beat, with Tyler Clawson. 
This Week's Sponsors: Odd Moe's Pizza, Canby Liquor Store, Reif & Hunsaker P.C., DirectLink, Advantage Mortgage, Wild Hare Saloon
Music in this episode: https://canbynowpod.com/music-credits/
Please support our show! To listen without ads, and ensure we can continue to bring you important news and amazing stories you can't get anywhere else, join Canby Now Plus today! For details, visit patreon.com/canbynowpod.