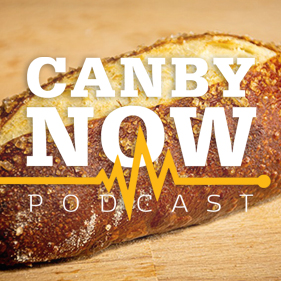 News and More: Going back to school this fall? Face masks will be required for students 5 and older. Community spread continues to be a factor in driving new cases of Covid-19 in Canby. The repaving and reconstruction of Highway 99E is coming in 2022. (We're really pretty sure this time.) And the Canby High School Band is about to make a splash on the small screen next month.
Canby Conversation: Canby's newest business opens this week: B's Bake Shoppe in The Dahlia. Owners Bethany and David Zito join the Canby Conversation to discuss their plans, their hopes and dreams — and just a small taste of the hard work it has taken to make them come true. Check them out during their soft opening week starting Friday, July 24, and on their grand opening Aug. 1!
Links: Website Facebook Instagram
After the Break: On Canby Then this week, we begin our series looking at the history of the Clackamas County Fair. Before the rodeo, before the bright lights of the midway, before even the deep-fried ice cream and hand-dipped pizza dogs on a stick — there was William Jennings Bryan and a bunch of Chautauquas.
This Week's Sponsors: Canby Foursquare Church, Health Markets, DirectLink, Advantage Mortgage, Wild Hare Saloon, The Book Nook
Music in this episode: https://canbynowpod.com/music-credits/
Please support our show! To listen without ads, and ensure we can continue to bring you important news and amazing stories you can't get anywhere else, join Canby Now Plus today! For details, visit patreon.com/canbynowpod.