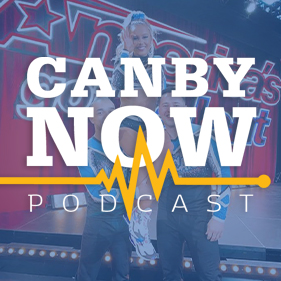 News and More: No new cases of Covid-19 were reported at the Marquis Hope Village Post-Acute Rehab center for the first week in over a month — but the total count for the Canby area rose anyway, from 118 to 127. And there will be no phase 2 reopening for the tri-county area this weekend — as key measures the counties use for tracking Covid-19 continue to move in the wrong direction.
Canby Conversation: Canby High School grad Tucker Hunter has seen more than his fair share of success in the world of competitive cheer, but his career was raised to new heights — pun, as always, intended — with a dazzling debut on America's Got Talent last week that had celebrity judges Sofia Vergara, Eric Stonestreet, Howie Mandel and even Simon Cowell, well, cheering.
Links: https://www.facebook.com/agt/videos/314977449896363/ 
After the Break: On Canby Then this week, we look at a simpler time, when the city's population numbered barely 200 — and the most pressing issue facing the newly minted Canby City Council was how to keep residents' chicken coops from encroaching onto city streets.
This Week's Sponsors: Canby Foursquare Church, Health Markets, DirectLink, Advantage Mortgage, Wild Hare Saloon, The Book Nook
Music in this episode: https://canbynowpod.com/music-credits/
Please support our show! To listen without ads, and ensure we can continue to bring you important news and amazing stories you can't get anywhere else, join Canby Now Plus today! For details, visit patreon.com/canbynowpod.