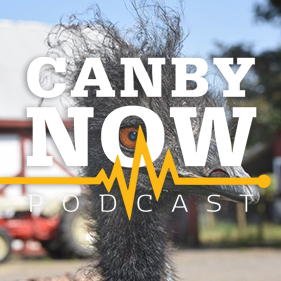 News and More: it was a July Fourth with no parade and no celebration at the park — but plenty of fireworks. Canby Fire is seeing a sharp increase in the number of cardiac emergencies — even as survival rates plummet. Dr. Sean Stone, an ER physician and medical director for several local fire districts, says now would be the worst time to let our guard down in the fight against Covid-19.
Canby Conversation: With zoos and most other diversions closed, and with the pumpkin patch and Christmas tree season looking quite uncertain, Frog Pond Farm in Wilsonville decided to try a bold idea one weekend: an in-car safari. Twelve hundred cars showed up, either because they all thought it was a good idea, too — or they were just so desperate to get out of the house anything would sound fun. Owner Justin Timm tells us the story.
Links: Frog Pond Farm on Facebook
After the Break: A man was arrested at a Canby gas station last month for trying to get into other people's cars. It's OK, though; he did have a good reason: He thought they were taxis. That's right: It's everyone's favorite segment, Police Beat, with Tyler Clawson. 
This Week's Sponsors: Odd Moe's Pizza, Canby Liquor Store, Reif & Hunsaker P.C., DirectLink, Advantage Mortgage, Wild Hare Saloon
Music in this episode: https://canbynowpod.com/music-credits/
Please support our show! To listen without ads, and ensure we can continue to bring you important news and amazing stories you can't get anywhere else, join Canby Now Plus today! For details, visit patreon.com/canbynowpod.