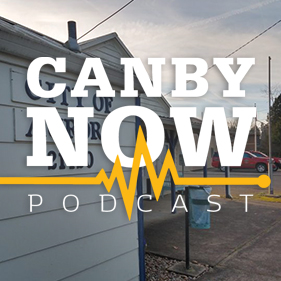 News and More: A former church property near the Aurora State Airport is cleared for redevelopment. The Canby Center preps for its annual Backpack and School Supply Giveaway — sans backpacks. The state seeks public feedback on its plans to toll Interstate 205 near the Abernethy Bridge.
Canby Conversation: In the midst of the unprecedented challenges of the coronavirus pandemic, our neighboring city of Aurora has kept chugging along, and is now enjoying more development and growth than has been seen in many years. Outgoing City Recorder Scott Jorgensen tells us how they did it. 
After the Break: On Canby Then, we continue our look back at the early years of the Clackamas County Fair, when a dozen prized cows could draw people from miles around, and the spectacle of a Hood River man buying a bushel of Clackamas County apples was enough to make the newspaper.
This Week's Sponsors: Canby Foursquare Church, Health Markets, DirectLink, Advantage Mortgage, Wild Hare Saloon, The Book Nook
Music in this episode: https://canbynowpod.com/music-credits/
Please support our show! To listen without ads, and ensure we can continue to bring you important news and amazing stories you can't get anywhere else, join Canby Now Plus today! For details, visit patreon.com/canbynowpod.